Discussion Starter
·
#1
·
I got a tender SAE battery cable and USB adapter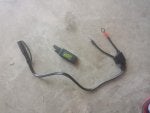 i was thinking adding an extension and run the cable on the frame and around or under the tank to have the USB mounted on the handle bar,
First question i have is how hot does those area get? will it burn the cable? should i get wire loom to cover it up?
looking at the USB and SAE connectors it doesnt seem to be weather proof, i wont ride in the rain, i try to avoid bad weather, but if i do catch on a bad day will those connector be an issue?
thanks!