After reading the thread in the DIY section on the Annitori quick shifter I thought I'd give it a try. For some background on me, I've been riding/racing dirt bikes for almost 30 years and riding sportbikes for almost 20 years. The whole reason I became interested is I rode my brother's Aprilia which has one from the factory. Beyond it's track intent, it really made that bike such a pleasure to ride on the street. Compared to other sportbikes I've had (750s and 600s) this bike requires considerable shifting as the gears are necessarily short to take advantage of it's power output. I reasoned that beyond the few track days a year I'll do, this thing will make riding on the street more pleasurable as well.
I had a couple questions so I filled out their contact form figuring it would be a while until I heard back. Paul from Annitori returned with an email in under a half-hour. My concern was with their available shift rods and what would fit the R3 application with the shift sensor installed. Amazingly, he recommended the included grub screws (right & left hand threaded rods) would probably afford me the length needed without need for an additional (read: additional cost) shift rod. He also offered if I'd like to buy their shortest rod, if I didn't ultimately need it I could return it for a refund. I decided to place the order and give it a go without an additional rod.
The package arrived in 2 days from placing the order. The install was very straight forward, Annitori provided install and setup pdfs. You will remove the tank to gain access to the coils, and connect their jumpers inline with the existing coil wires and then connect those to the control unit. The new sensor "shift rod" is then assembled to replace the existing shift rod and its harness is then connected to the control unit as well. I wrapped the control unit in foam and placed it on top of the battery under the main seat. There is no "splicing" involved, everything is plug and play either using the spade connectors Yamaha uses on the coils or the harness connectors on the control unit. Very clean and easy install. All you need to do is confirm you have it connected properly, tidy up your wires and reassemble.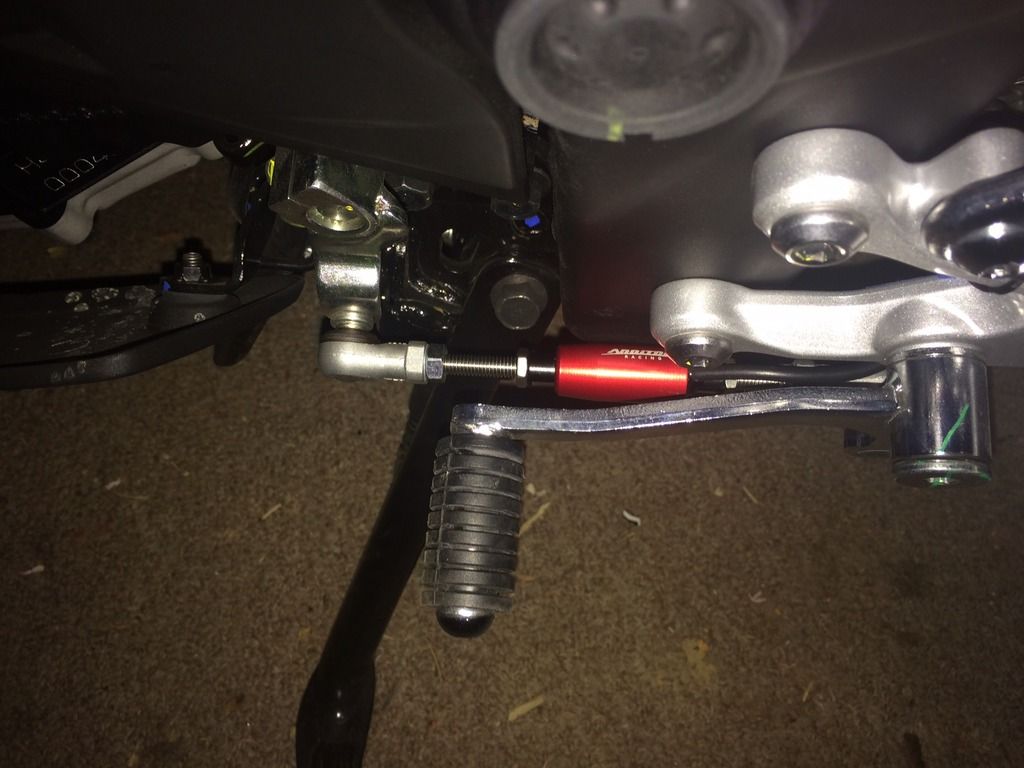 The slickest part of the entire deal is the control unit's settings are accessed thru a smartphone app. I use an iphone 5s, and the app is available from the apple app store. Annitori includes directions to connect and control the unit using the app and it worked flawlessly. Paul also recommended a "kill time" (ignition cut time) of 70ms based on his research and feedback from other R3 users. I started there, and haven't found a reason to change it. Here's a kick, several days after receiving the unit I get an email from Annitori making sure install went well and I was satisfied with my purchase! Who does that anymore!
I took the bike out for a road test and I must say I thoroughly enjoy riding the bike much more now. Up-shifts are simple and easy. Quick shifters work properly with the tranny under load, so while accelerating briskly you just "click it up", do not let off, bob the throttle, fan the clutch, nada, and it cleanly and nearly seamlessly transitions to the next gear. You do not need to be WFO, testing local laws etc, just accelerating briskly, around midrange and it works great. When the road (and law) allows, full throttle red-line shifts are an absolute pleasure, the bike just pulls and you keep it pinned. I'm really excited to try this on the track next month.
Overall I would rate this product, and the support I received from Annitori, very highly. Is it a "must have"? That's up to you. After having it for a few rides now, I wouldn't want to go back. In fact, I will not own another sportbike without a quick shifter and if it doesn't come with one, it will be from Annitori.
As an FYI, I was not paid, compensated in anyway, or coerced to make this review by Annitori, nor do/did I know any member of their company or ever use any of their products before this quick shifter. I just thought it was a pretty cool piece and thought I'd share my experience with it.