Heh, thought I would have finished everything by April at the latest after purchasing a used R3 this past October as I acquired various parts and upgrades from December until March primarily. Gotten a few things more recently, and have ended up with extra parts as changes and parts conflicts have reared their ugly head.
Originally, my plan was to go with primarily red and silver parts to highlight those already present colors on the raven R3. While I wear only silver on my watch and rings, I really dug the gold accents against the black raven color. While not all the "gold" and "orange gold" parts match in color exactly, they're close enough and I think they look great as little highlights on the bike. It's turning out really well methinks.
Suspension is an important upgrade, and arguably more important to attend to than some aesthetic upgrades, but the fork and rear shock upgrades will be some of the biggest upgrades expense-wise, so it was easier to defer them. However, when I added a Progressive rear shock with external res to my FZR600, it was like night and day.
In the near future, I am probably going with a rear shock, and just upgrade the springs or maybe get a cartridge kit.
Anyway, here is the current status of my R3 in pics. I'll add some notes later. The whole R3 recall thing is bumming me out, but c'est la vie. No sense in tripping over it. I just want to hear something official and get it handled in a timely manner. As it is for me, I suspect it will be aggravating for you waiting for a multitude of reasons-waiting for the official release and response, holding off riding or riding carefully as this "defect" is at the forefront, etc. I'm still riding but going to hold off on any long distance or time extensive rides.
The first set of pics are of the bike with some highlights of certain areas. The end shots include pics of the parts still left to install.
Note: I'll be posting some explanation of the bike, notes on the work and work pics, & various other notes and pics.
Here is a list of currently installed parts:

-Bikers Side Kick Stand Board [titanium]
-Scorpio Ride/Secure Motorcycle Alarm + Data System
-Vagabond or TST Fender eliminator kit:
-TST Front LED turn signals
-TST Rear LED Turn Signals
-TST Yamaha OEM connectors/Relays
-TST Relay
-DynoJet PowerCommander5
-Akrapovic full exhaust system
-R&G Radiator grill guard
-R&G Down Pipe Grill guard
-Driven Block Off Plate
-BMC Air Filter
-Tyga CNC Alum/CF rearmost + rear brake line
-TechSpec snakeskin tank pad protector
-Vortex Swingarm spools (REMOVED FOR WOODCRAFT SLIDER SPOOLS)
-Woodcraft Slider Spools (Aluminum Vortex spools are nice but get gauged easily-Woodcrafts are more functional)
-R&G Racing Round Exhaust Protector(4.5"-5")
-Sato Oil Filler Cap: $35 &Titanium Locking plates
-Kitaco Rear Master Cup Guard (Silver)
-Dimotiv Mirror Extension (left)
-Dimotiv Mirror Extension Kit (right)
-Dimotiv Frame hole Covers (Gold)
[p]
Here is a list of already acquired but not yet installed parts:

-PC5 AutoTune (needs new bung welded)
-GRAVES: rear brake return spring (optional)
-Brembo 15 RCS Master Cylinder
-Brembo P4 Front Caliper Upgrade Kit
-CRG SC2 Clutch Lever & perch
-PSR Anodized Yamaha or Brembo Ft Brake Reservoir
-Sato Reservoir brackets
-Sato Front Brake Reservoir Cap
-Brembo(ft) & Galfer(Rr) brake pads(Rr set)
-Vortex Clipons
-Driven D3 grips:
-Driven universal reservoir clamp (or Woodcraft reservoir clamp)
-Sato Bar Ends)
-Sato Lever Guards
-MotoD Oil Cap w/Locking plate & wire
-Spears Fork Pre-Load Adjuster Caps
-Impact Crash Pads-Bottom Lt/UpperRt (Gold)
-Dimotiv Crash-Pad Right Side Lower(Gold)
-Dimotiv Chain adjuster (Gold)
-Bikers Stem Top Bolt-Gold
-Dimotiv Front Fork Bracket (Gold)
-BIKERS Fork Upper Top bridge cover (Gray)
-R&G Aero LED Turn Signals (Replace TST Flushmounts)
Here is a list of planned parts:
-Ermax rear hugger
-R&G Fork Protectors for Yamaha
-R&G Racing Universal Toe Guard
-Andreani fork cartridge kit
-Ohlins YA476 Rear shock with external reservoir
-Pirelli Diablo Rosso II tires
-Galfer wave rotors
R0b0tN1nja's R3- Reassembled Pics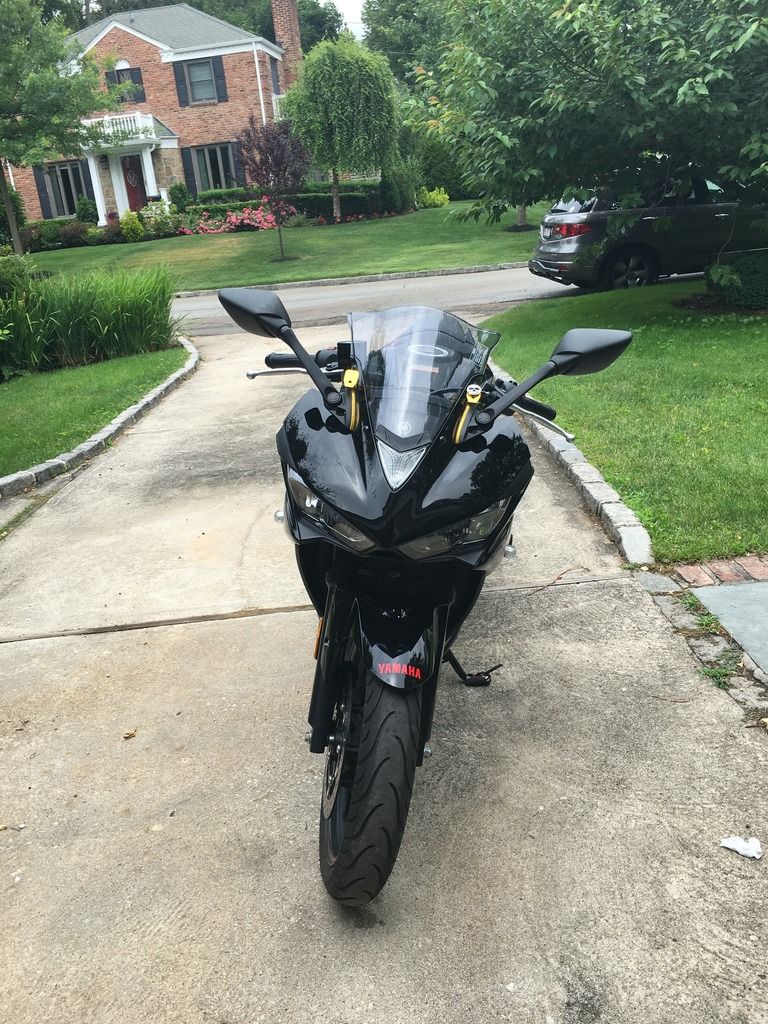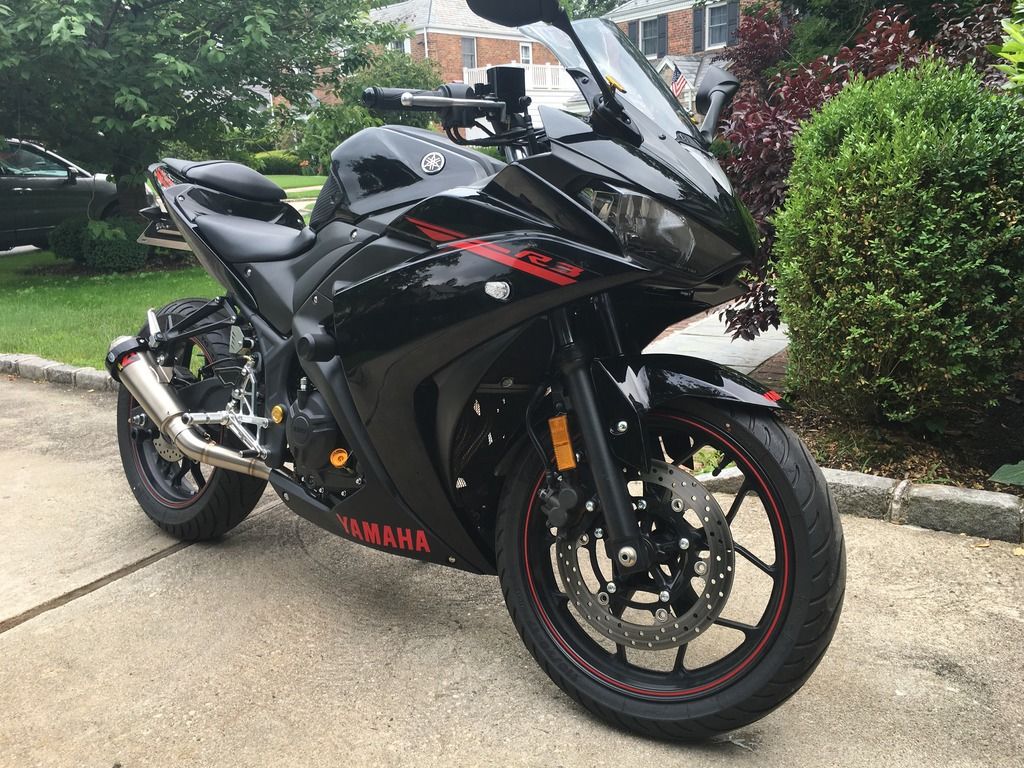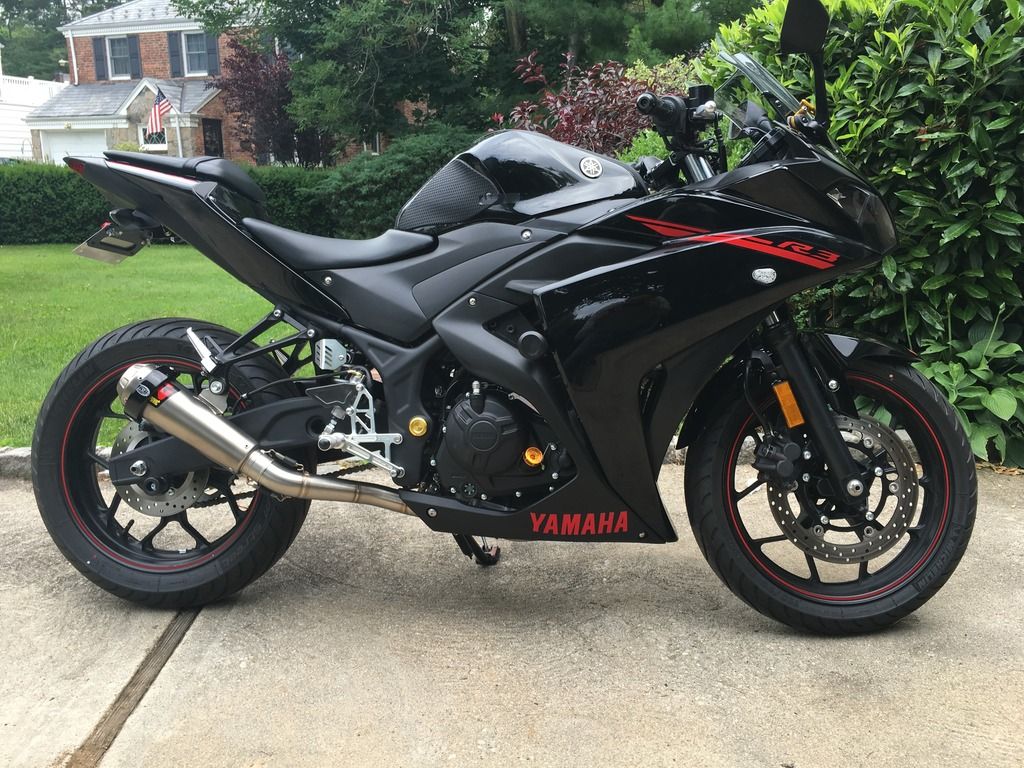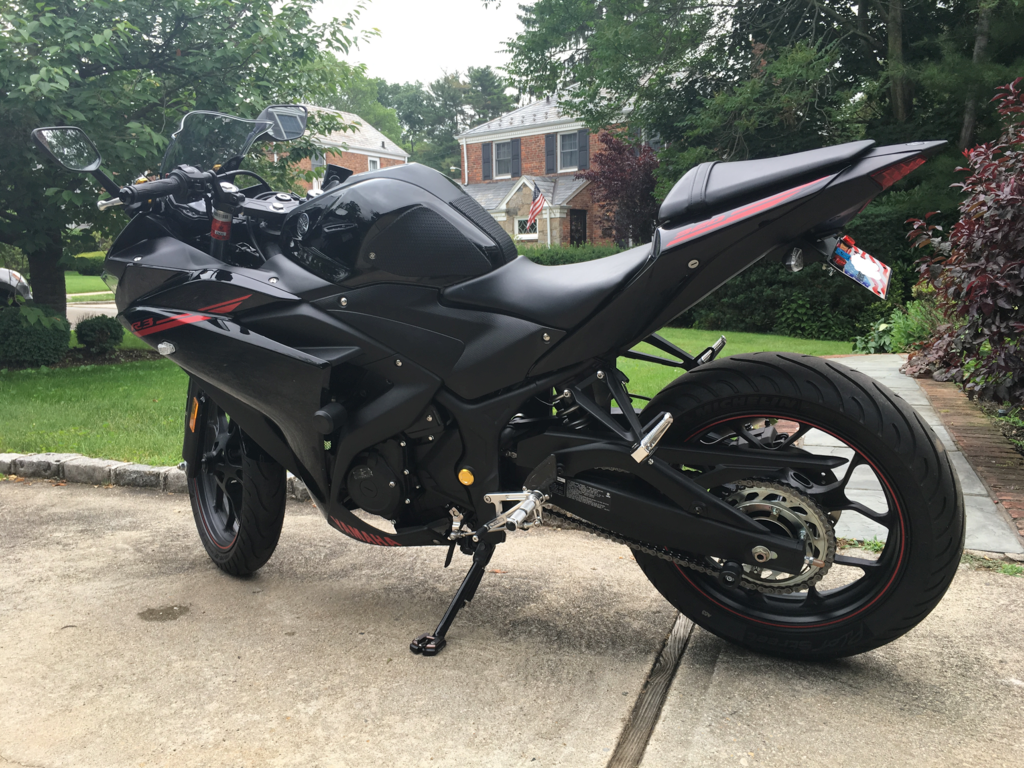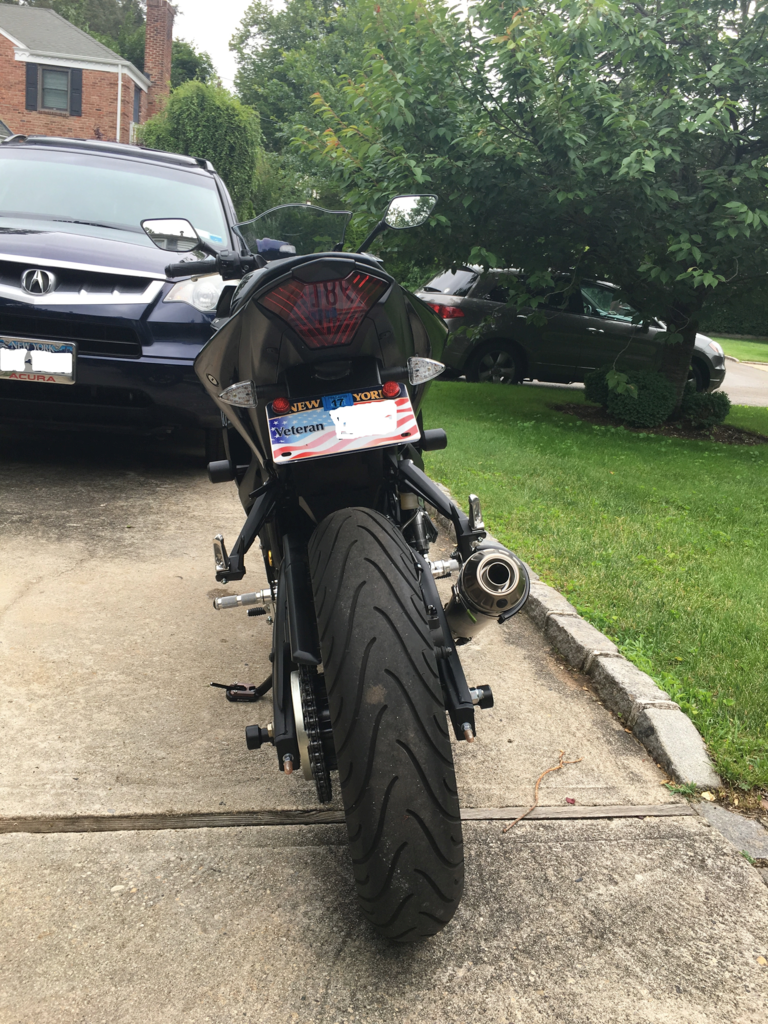 http://img.photobucket.com/albums/v486/kenergy/KM%20YAMAHA%20R3/KM%20R3%20Vagabond%20FE%20Kit%20%20Akrapovic_zpsuvlvldoh.jpg