Only known surviving photo. Had it during most of my Army years and traveled to different bases with me, notably Ft Carson, Colorado Springs Colorado. Had it from 95-2005. Did like 22,000 miles on it. Had a Vance & Hines exhaust, rejetted carbs, K&N filter, and Progressive rear shock with remote reservoir. Got it up to around 130 on 115. That bike was a trouper.
Saw a guy recently with a later model FZR600 in Brooklyn. The white with multi colored stripe theme. Mine was all black with he hideous 90's teal and pink stripes which I painstakingly removed.
Found it on a whim. My Mom called saying her internet and cable was out and needed me. Caught a glimpse of the photo lying under the TV stand among manuals, remotes, etc. My brother must have taken it while he was tuning it up for me in basic and AIT prior to shipment to Colorado. In the background you can see my brother's 86 GSXR 750. (R.I.P. Bro).
An idiot friend messed it up when I lent it to him. Left it stranded 30 miles away in Pueblo. A friend helped me retrieve it and I shipped it home. Sat a few years and just gave it away when I bought my 2004 CBR600RR.
It's a pic of a regular 4x6 pic so it's grainy. Sorry.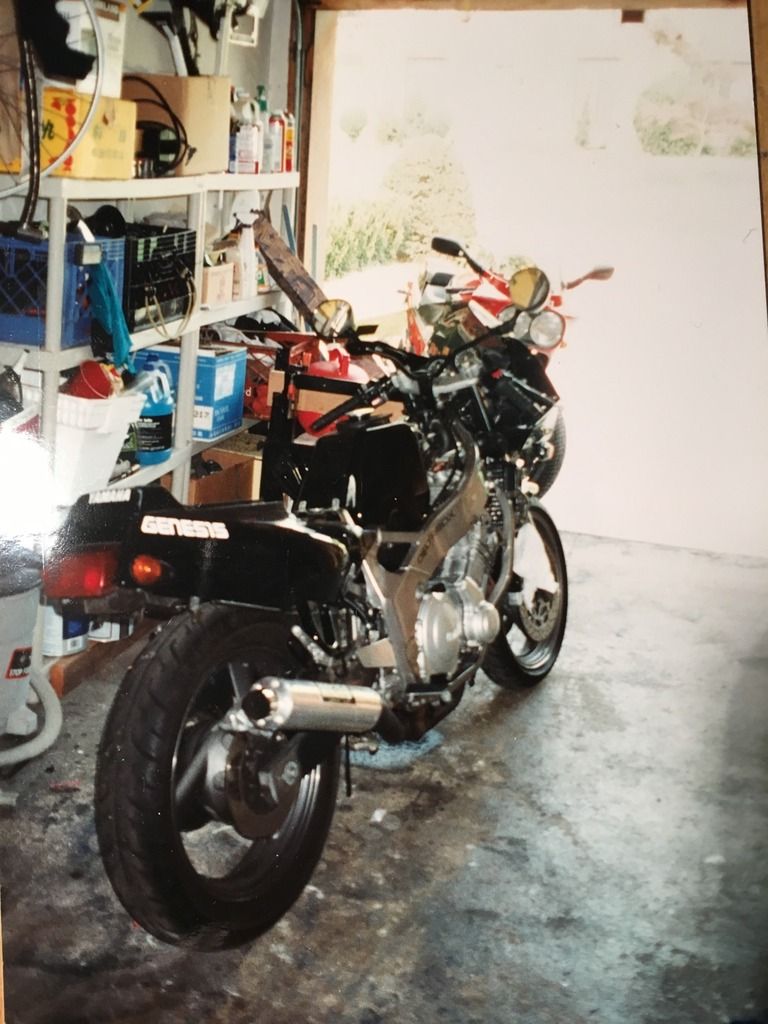 Sent from my iPhone using Tapatalk