Discussion Starter
·
#1
·
My brother was a died in wool
SHOEI
guy, and sometime
ARAI
. I always had
AGV
and
BELL
helmets, and more recently have loved Icon. I think Icons are the best blend of aesthetics, features, protection, and value. Right now I have my
AGV K3
in black, and an
ICON Alliance Rubatone.
I had an
ICON Airframe Parahuman
, but it was a size too big so I gave it away. I think the
AGV
will be a backup, and the
ICON
will be a passenger helemt. Going to spring for a new helmet soon. I like to get good stuff a lot, but have tempered that down a bit in recent years. I don't always have to get the best, and I will definitely not drop $1,399 on a CF
AGV
.
My brother would recommend the
SHOEI RF-1200
, which has a long pedigree, and is tried and true, and has a huge base of "adherents" and "practitioners." I have a long oval head, so the
BELL's
and
ICON's
fit me great along with
AGVs.
THe RF-1200 and XF-1400s are expensive. I usually go a few years with a helmet. Some swear it off after a drop. in a 4-season area of the country, the temp changes, high use, etc does wear on it. I believe the integrity is still good though way beyond the way conservative tolerance limit of helmet replacement guidelines, which benefit the manufacturer for obvious reasons.
Anyway, $400 would be ideal, and would like a mix of CF, and am willing to go to $600. Therefore I have settled on a few models to chose from. I was wondering if anyone had an experiences with these new models. My last 3 have been 1 AGV, and 2 ICONs, so I am leaning on the BELL STAR, which is totally new from ground up, and the best value and fully featured. SO many awesome graphics too.
First, is the
ICON AIRFRAME PRO CARBON
(Full CF for $600, which is pricey, but a good value considering comps) but very severe posture.
Choice 2 is another ICON. Just a step below. The
ICON AIRFRAME PRO
which has a a composite shell of fiberglass, CF, etc as opposed to fully CF AIRFRAME PRO CARBON above. Same awesome feature set, set.
ICON
has created another 2 set of winners at a great price point. $375 for solids and $400 for graphics for the AIRFRAME PRO helmets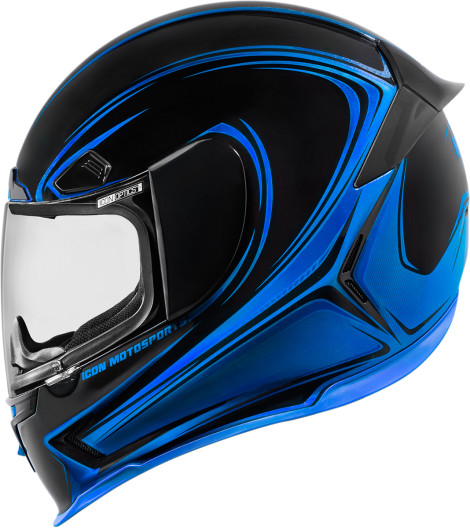 I absolutely love the
BELL STAR
family. The RACE STAR too, but at $799, it is more predicated on the track which I am not going to do at this time. Love the "FLEX IMPACT LINER" which is a flexing initial liner for low impact crashes. I dig the STAR "sub-families":
BELL STAR PACE
(1st pic) and
BELL STAR SPECTE
R (2nd). Same features, just different graphics. The
BELL STAR
is like the AIRFRAME PRO in that it has a Carbon Fiber layer, but the shell is a composite unlike the fully CF shell of the
ICON AIRFRAME PRO CARBON
or
BELL RACE STAR.
at $499, it's priced more than the composite
ICON
, which it has a similar feature set to, but also closer in features to the more expensive
ICON AIRFRAME PRO CARBON
sans fully CF shell.
Yeah, the
SHOEI RF-1200
and
SHOEI XF-14
helmets, are a consideration, and again, are incredible helmets. Some of the best if not best out there. But they're more for round heads, not big noggin's like I got. I love
ICONs
for the features, looks, certifications, and value. I love the
BELLs
for their features, and graphics, and safety. I'd give AGV and SCORPION for honorable mentions here, but have settled on those three helmets.
ICON AIRFRAME PRO CARBON
,
ICON AIRFRAME PRO
, or
BELL STAR
helmets for my next helmets.
I am leaning toward the
BELL STAR
. Anyone bought one of these bad boys recently? Would love to hear your experiences! But, the
ICON AIRFRAME PRO CARBON
is a close
#2
. I really dig the yellow/white/carbon
BELL STAR
though. Will look perfect if/when I get the MDF Pumpkin Yellow Decal kit for my Raven R3!