Nice writeup, as usual.
I ended up installing Spiegler lines (front and rear) for $129 from STG, came with free Brake fluid and spray Brake cleaner.
Used this little reusable $6 bleeder. Worked great. Magnet on the bottle lets you position it above the caliper so no air bubbles back flow. From Autozone.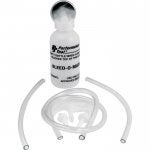 That front line you installed with the screw-on connector is better for track use...