I received the
SP TADAO Power Box Lite
slip-on today and installed it. Ordered June 27th, arrived July 13th.
It's literally a 15-20 minute job. Illustrated instructions are in Japanese only but you don't need a translation. Photos work fine and aren't even really necessary. I can't do a sound test until the silicone has cured overnight. I'll add that in tomorrow.
It's a full stainless steel, minimalist design.
Disclaimer: I like minimalist and I don't like normal, which is why I didn't opt for one of the Big 3's pipes (Yosh, Akra, 2Bros). Really like the Graves Hexagonal, but not the price at around $400.00 USD
So, this is a shorty exhaust. There is no connector pipe; it installs right on to the pipe coming out of the stock collector box. No clamp needed, no gasket needed, it's a perfect fit. I added a bead of Red High-Temp Silcone on the inside of the slip-on and a bead on the outside of the collector exit pipe just to be sure there are no leaks, but I doubt that was necessary (latent OCD tendencies show themselves once in a while!
).
It mounts using the rear two of the three hex cap bolts that hold on the stock shield/cover. Very secure. Plus, there is an extra advantage to this in that you don't need the exhaust hanger/passenger mount any more. Gone!
Weight savings are significant.
The stock muffler weighs 6.24 lbs. (2.83kg)
Exhaust Hanger/Mount/Peg weighs 1.00 lb. (0.45kg)
SP Slip-on weighs 1.36 lbs. (0.616kg)
Total savings is 5.88 lbs. (2.776kg)
With removing the left side passenger peg and mount you save another 1 lb., so total is really 6.88 lbs.
Cost is $242.00 USD plus shipping (shipping is free for orders over $525 USD).
It's also on sale right now for $229.31/Last day of Summer Sale
here:
http://japan.webike.net/products/21866528.html
Before
After
After Close-up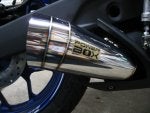 Closer-up
Rear View
Instructions
Box Tag