1.) Front Brake Reservoir Cover, CNC Aluminum
Source: eBay
http://www.ebay.com/itm/12166227919...49&var=420666186764&ssPageName=STRK:MEBIDX:IT
2.) Rear Brake Reservoir Cover, CNC Aluminum
Source: eBay
http://www.ebay.com/itm/12167500322...49&var=420680965534&ssPageName=STRK:MEBIDX:IT
3.) Adjustable Shorty Levers, CNC Aluminum
Source:
http://www.ebay.com/itm/12165631529...49&var=420655765253&ssPageName=STRK:MEBIDX:IT
4.) PUIG Swingarm Spools, CNC Aluminum
Source: Revzilla.com
http://www.revzilla.com/motorcycle/puig-hi-tech-spools
5.) Tank Pads TechSpec Snakeskin Part # 62-0092-SS (for Ducati
Hypermotard, Fit R3 perfectly)
Source: eBay
http://www.ebay.com/itm/261370957125?_trksid=p2060353.m2749.l2649&ssPageName=STRK:MEBIDX:IT
6.) GIVI XS306 Expandable Tank Bag, 25 liters, TankLock Mount, w/removable iPad Top Case & Hi-Viz Rain Cover. Tank Mount Ring sold separately usually, shown in one photo = GIVI Part # BF05
The tablet in the iPod case is a Lenovo IdeaTab A2109 9 inch, dimensions are: 9.30 x 6.50 x 0.46 inches. 10 inch tablets fit perfectly.
Source: FC-MOTO.com
https://www.fc-moto.de/epages/fcm.s...angeAction=SaveLocale&ChangeObjectID=72347773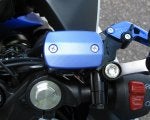 Still to come, when available: Delkevic DS-70 Carbon Slip-on; Rear Tire Hugger; Exhaust Hanger; Exhaust Protector/Slider; Mirror Block Off Plates; Fork Sliders; some sort of seat re-cover or custom seat with gel pad