All Tires SOLD
near Philadelphia PA
2 sets of Bridgestone Battlax tires available off my wife's track R3. All sets are radials in standard R3 sizes of 110/70R-17 54H front and 140/70R-17 66H rear. Use has been track days only (no racing) by a lightweight (sub 115 lb) rider riding at fast novice/slow intermediate group pace; light wear all things considered. No street miles on any of these tires so the even the little wear is confined to flanks of the tires. All these tires have tons of life left, be it for street or track., and none have "gone off". Offering these up since she sold the R3 (other parts available on another post). If you pick up tires locally, I can mount and balance them FREE if you bring your rims.

Set #1: Battlax RS10 $100
Date codes F:1919 R:2719. Used 6 track days at a slow intermediate pace, always with tire warmers on low temp setting so they only have only 6 heat cycles. These "Racing Street" tires are a step up in dry performance above the S20/S22, meant for track days and even some racing. Silica Rich compound makes for quick warm up (tire warmers not required) and some capability in damp. Tire profile is is more aggressive (pointier) than the S20/S22, especially the rear, for a bit more feel and grip on the edge.
Check out this review
MC Tested: Bridgestone RS10 Motorcycle Tires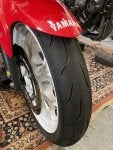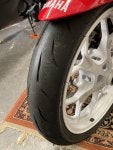 Set #2: Battlax S22 $120
Date codes F:3919 R:3819. Nearly new with only 3 days of use, of which 2 days were wet. so they show almost no scuffing in. We had these on hand for wet or cold weather as the S22 is a great sport tire for a wide range of conditions. making this a great choice for super high performance road use. Silica Rich compound warms quick, works cold and wet. Rear is dual compound for better wear on road. Newest offering from Bridgestone.
All of these Bridgestones are all made in Japan, unlike the Pirelli DRC3 which is made in China. Battlax tires are H-rated so they are appropriately compliant for the low weight of the R3 and not over-built for unachievable speeds, like with Z-rated tires.
PM if interested in any of these or have questions. Again, FREE mounting for local buyers. Available combined with a spare set of R3 wheels.
Thanks