Problem:
Plastic gas tank cover means magnetic tank bags won't work.
Strap Mount tank bags aren't great looking or convenient to remove and replace
Solution:
GIVI and KAPPA (same company, different product lines, VERY high quality products) sell Quick mount tank bags using a locking ring mount under the names TankLock and QuickLock.
I bought a GIVI XS319 3 liter bag from Italy for $54.00 shipped (they make many sizes) and then bought a GIVI BF05 3-hole mounting ring. This model mounting ring is designed for Yamahas.
It didn't quite line up perfectly with the screw holes on the gas tank filler so I used a 1/4" drill bit to open up the holes a little bit and it works perfectly now.
The tank bags GIVI and KAPPA sell come with a plastic ring that is held on to the filler with the mounting ring, using new screws provided with the ring.
Then the tank bag just snaps into place and is removed with the push of a lever.
The tank bag itself isn't here yet, but I'll post photos of it mounted on my R3 when it arrives.....
Photos include here are stock photos to illustrate how it works. First photo is of the XS319 bag.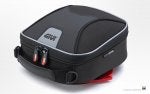 Sellers include eBay, and, in the U.S., Twistedthrottle.com and Tourandride.com
Cheers!