I saw these on eBay and thought the shape would work on the R3.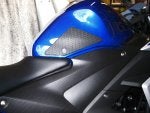 View attachment 3881
As you can see, the lower edge almost perfectly follows the R3's tank lines.
These are the
Snake Skin
textured pads made by TechSpec. The model # of these
Gripster Tank Grips
is 62-0092-SS and they are designed for the Ducati Hypermotard (07-12).
If you are familiar with TechSpec you know that their Tank Grips usually run $45 to $65 for a set.
These were $21.91 shipped.
http://www.ebay.com/itm/261370957125?_trksid=p2057872.m2749.l2649&ssPageName=STRK:MEBIDX:IT
NOTE:
You have to mount them low down on the tank in order for them to be functional.