Discussion Starter
·
#1
·
So I want to upgrade the brakes:
Get Core Moto/Galfer/Speigler brake lines & brake pads (Glafer? BEC?). I have other priorities but down the lines cool looking Glafer wave rotos would be nice (if I have the discretionary income) along with HardR's Brembo caliper upgrade kit. For the time being lines & pad should help a bit with better pressure and better aftermarket pads.
So reading HardRacing's, Kojiiro's, et al's threads on Brembo's Master CYlinder upgrades/ft brake lever has made me think that is a worthy upgrade too. I was interested in getting better levers over the stock ones, but if I get a Brembo brake lever and clutch lever, what;s the point in spending $170 on CRG levers? Anyone recommend just going with new levers, brake pads, and brake lines or jump on the Brembo Master Cylinder too?
Also, I have always used long levers, anyone prefer shorty on both or one lever?
Also, read some people saying CRG levers interferred with the their banjo bolts-seems strange that would happen. Anyone tried Pazzo's? Read some dudes swearing for Pazzos over CRG. Anyway have 2 cents to chip in?
Rizoma has some beautiful reservoirs. I'm not a huge fan of plastic reservoirs. I love polycarbonite and aluminum reservoirs available in the computer watercooling space which Rizoma has similar versions of. Is it vaporware?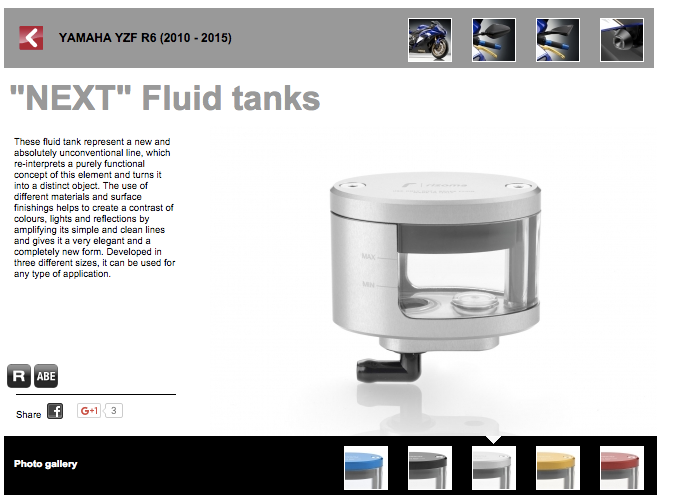 Rizoma Next Fluid Tank